How To Earn With TrueUSD: The Comprehensive 2020 Partner List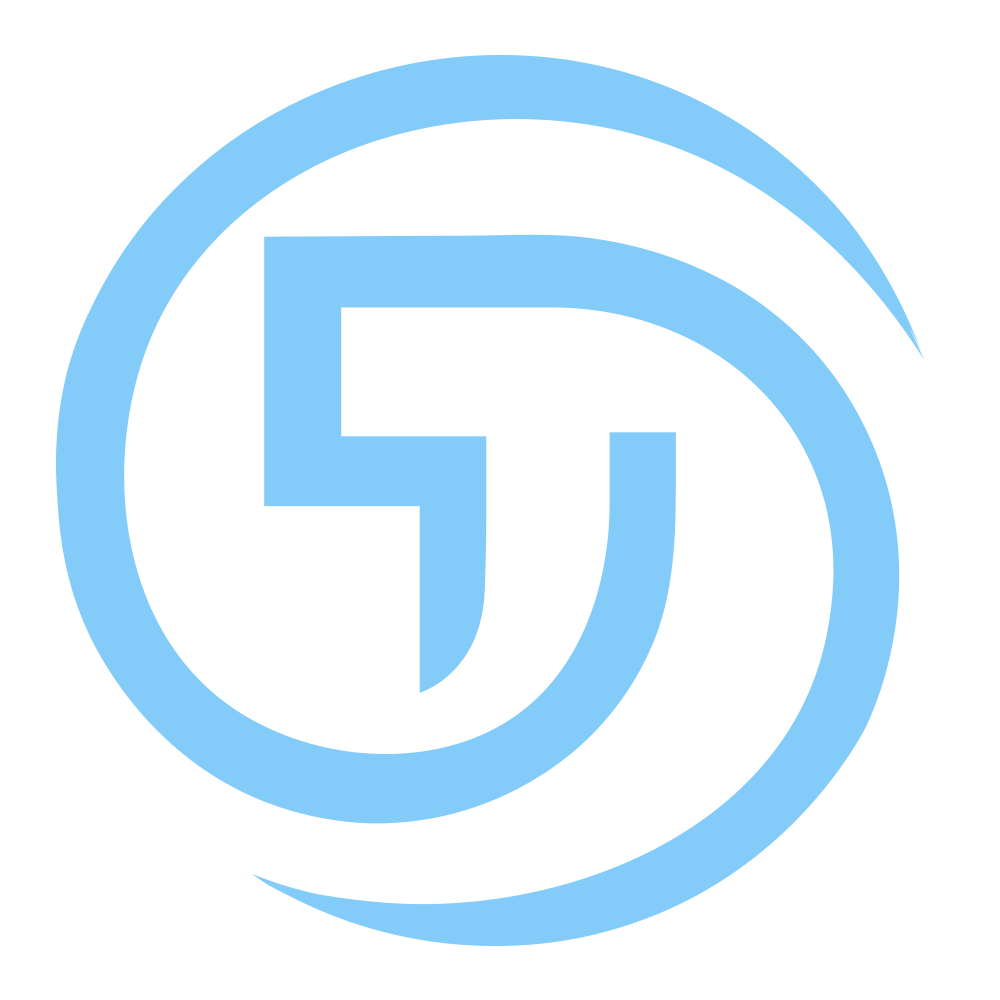 Trust Token
Updated on
April 4 2020
Cryptocurrency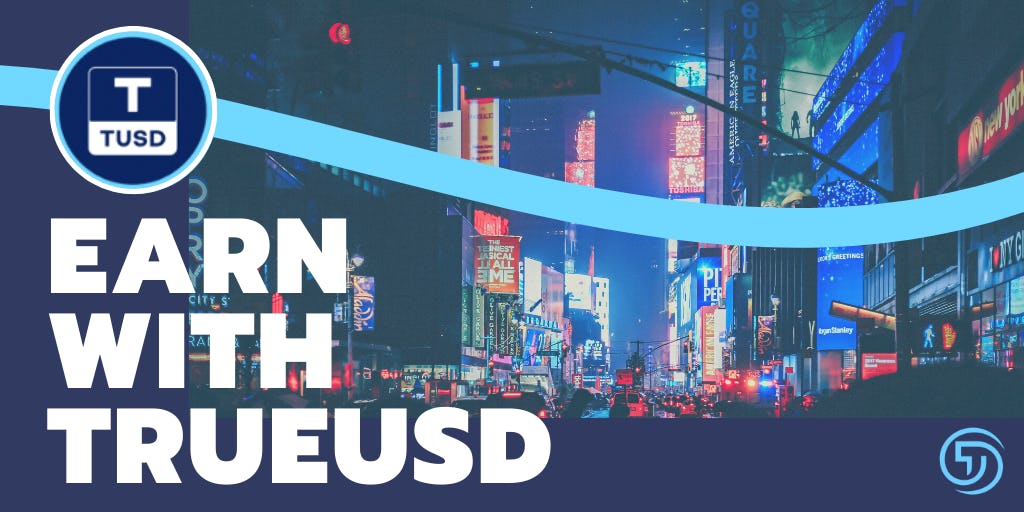 For many new and seasoned investors alike, cryptocurrencies represent a unique investment class that is rapidly reshaping the way we think about and invest in global financial assets. 
While cryptocurrencies such as Bitcoin and Etherum continue to grow in popularity, one of the downsides of investing in and using many cryptocurrencies at scale is the volatility in price. It's not uncommon to see swings of up to 15% in one day. 
To address the challenge of price volatility within cryptocurrency, 'stablecoins' were designed to stabilize the price of cryptocurrencies by being pegged to real-world assets. Need a complete overview of stablecoins? You can check out our guide here. 
If you're looking to earn with TrueUSD or how to make money online, we've put together the ultimate guide on how to get started. 
In our comprehensive guide, we'll cover how to earn with TrueUSD, as well as everything you need to know to put your investment to work. 
To help you navigate what we cover, we've put together a table of contents for you to quickly find what is most relevant to your specific situation.
Make TrueUSD Work For You 
While many investors in cryptocurrencies look to profit from buying low and selling high, there is more than one way to earn from your crypto investments, specifically with TrueUSD, one of the most popular stablecoins in use today. 
Let's take the classic example of earning interest from your money with traditional banks.
You open a savings account with say Bank of America or Chase, and in exchange, they will give a percentage of interest to use your money for other investments. 
Not long ago, you could see a return of 5-10% interest on your savings account capital.
However, a quick Google search today will show that most banks now offer significantly less than 1% interest. Given some of these interest rates, you're actually 'losing' money when accounting for inflation.
Because of the increasing demand for cryptocurrencies across the globe, there are multiple ways to leverage your investment to make capital with relatively little risk and often much higher interest payouts. 
Currently, many companies can offer up to 10% interest on your stablecoin holdings, which compared to traditional banking interest rates is an incredible return on investment. Of course, as with all financial products, interest rates are subject to change and can vary depending on other economic factors. Regardless, stablecoins historically provide much higher interest rates than traditional finance. 
Not only can you lend your cryptocurrency to individual companies to earn interest, you also can try out P2P lending using TrueUSD to earn interest directly from individual borrowers.
For example, consider a BTC miner who needs USD to purchase equipment for his mining operation. You could lend them TrueUSD which they could convert into USD to purchase equipment. As a result you would earn interest from the loan while helping them run their business. 
Both individual and company loans offer a unique opportunity for you to earn. 
Ultimately, through TrueUSD and other stablecoin offerings from TrustToken allow for people around the world to choose how they would like to earn from their capital. 
We'll be covering each way to earn with TrueUSD and the best TrustToken partners to consider when leveraging your TrueUSD.
CeFi vs DeFI The Essentials You Need To Know 
Before we dive into how to earn with TrueUSD and the ins and outs of DeFi crypto lending, it's essential first to understand a few critical definitions, specifically "CeFi" and "DeFi" and the high-level pros and cons of each. 
CeFi is short for Centralized Finance, whereas DeFi is short for Decentralized Finance. While there are many differences between the two, at a high level, you can view CeFi and DeFi as follows:
CeFi - Putting trust in a company or entity 
DeFi - Putting trust in technology or a protocol 
When you open a bank account at a traditional financial institution, for example, you're putting your trust in that specific company. If you have a standard checking account or savings account, you're leveraging centralized finance.  
Additionally, many popular cryptocurrency companies such as Coinbase and Binance would be classified as CeFi.
Most centralized finance institutions require that you share personal information with them to use their services, and can put your funds on hold if deemed necessary. Many companies will operate in good faith, but in theory, you're always at risk of how that company wishes to operate. 
DeFi, on the other hand, relies on decentralized technology and various protocols to facilitate the lender <> borrower marketplace. When using decentralized lending protocols, you're putting trust in the technology, rather than a single person or company. 
DeFi services typically do not require any personal information to get started and place the user in full control of their assets. Most DeFi products and services use the Ethereum blockchain to run, and there continues to be rapid innovation in the space. 
Top-Performing Centralized Finance Opportunities 
Now that you have a high-level understanding of both CeFi and DeFi, let's get into the good stuff, how to earn with TrueUSD. In this section, we'll cover the highest yielding CeFi lending platforms.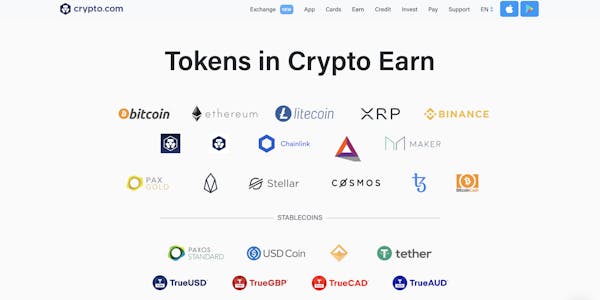 What is Crypto.com?
Similarly to Cred, you can earn interest on  your TrueUSD through Crypto.com. The mechanisms for earning interest and securing loans are quite similar, but holding periods and withdrawal limitations differ on each platform.
How does Crypto.com work?
Crypto.com also offers discounts and additional debit card benefits when you stake their  MCO token. The MCO token sale occurred in May-Jun 2017 and raised over 25 million in capital. Available in the UK, USA, Singapore, Crypto.com, they have also recently released their native exchange where you can trade dozens of cryptocurrencies with low fees. 
According to Crypto.com, MCO currently has a circulating supply of 15.8 million tokens and is on more than 20+ exchanges. Crypto.com offers competitive interest rates on your crypto deposits, and when combined with MCO token staking, you can receive even higher payouts.
How does Crypto.com make money? 
Crypto.com makes their money by trading fees from their exchange, as through other partnerships such as Visa. 
Over the last several months, they have continued to grow their financial services offerings and seem to be providing many services that are superior to their traditional banking counterparts 
With Crypto.com, you can have a physical debit card sent to your address to use anywhere Visa cards are accepted. In many aspects, Crypto.com offers the most extensive set of services available in the market, enabling you earn, borrow, trade, and spend all in one unified platform.
Is Crypto.com safe?
Crypto.com takes the safety and security of it's platform and users' funds incredibly seriously. Abiding by a philosophy of "Defense in Depth" they have a variety of safeguards in place, including 100% of their users cryptocurrencies held in offline cold storage. 
Additionally, if you are a US resident, your USD balances are covered by FDIC insurance up to $250,000. Crypto.com also has additional withdrawal controls, transaction screening and more to ensure top of the line security. It's important to note, the FDIC insurance only applies to USD and not your crypto assets. 
How to earn with Crypto.com 
It's incredibly easy to start earning with Crypto.com.
Head on over crypto.com 
Click "Sign Up"
Download the app on your phone.
Fill out the required information needed to set up your account.
Purchase or deposit TrueUSD or your desired cryptocurrencies.
Begin earning interest on your crypto weekly. 
Staking  MCO tokens will provide increased interest rates and other debit card benefits that would be deemed impossible by traditional card providers.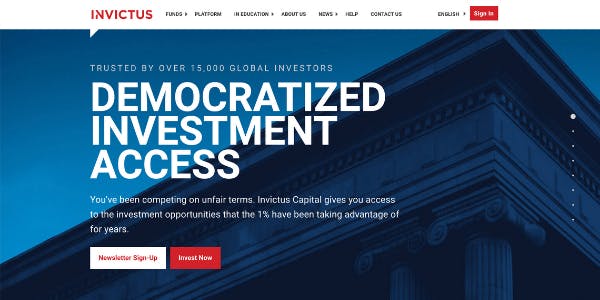 What is Invictus?
Invictus Capital democratizes access to investment opportunities via their blockchain-based asset management platform. They have pioneered the use of blockchain rails to deliver tokenized investment funds to a global audience of over 15,000 investors. To date, they've launched diverse products that include index funds, hedge funds, energy infrastructure, venture capital, and lending. 
How to earn with Invictus 
Another way to earn from your TrueUSD is through the Invictus Margin Lending Fund or (IML). Invictus allows for their investors to earn passive, dollar-based returns with reduced risk compared to other lending fund options. 
How does Invictus make money? 
When you invest your TrueUSD with IML, the fund aims to maximize interest income on TUSD by offering USD loans on peer-to-peer margin lending exchanges. Given the growing interest in peer to peer loans, IML offers leading interest rate returns on your investment. 
According to IML, "to date, the fund has returned over 11% annualized in USD terms since its inception in August 2019. For comparative purposes, this is at least 20% higher than that offered by their closest competitors." 
Is there a minimum requirement to invest with Invictus?
Like other stablecoin investments, the main risk associated with investing TUSD on the Invictus platform is counterparty risk. Invictus has built a strong reputation for lending to major exchanges that have historically remained solvent and have not incurred any substantial losses to date.
Trusted by over 15,000 global investors, Invictus is approachable as they do not require minimum amounts for investment; however, their client base generally has a medium to large size capital pool to deploy. 
Is Invictus safe?
Invictus investors have 24/7 access to their funds, and all their fund holdings are reported in real-time on their fund product page for additional transparency. If you're looking for a hands-off way to invest your TrueUSD and earn above-average returns, Invictus is definitely worth looking into
They offer multiple funds based on your specific investment needs.
How to earn with Invictus 
To get started, simply head on over to their IML Fund page and click "Invest Now."
Follow the steps provided by filling out the personal information required and you'll be well on your way earning with your TrueUSD.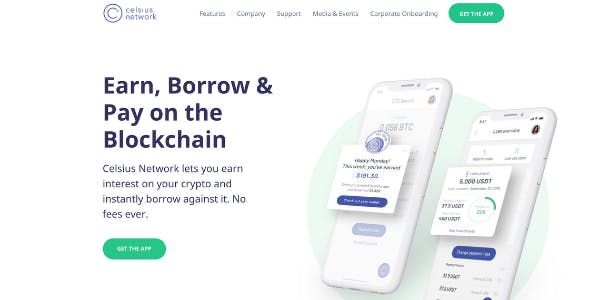 What is Celsius Network? 
Like Cred, Celsius Network is a TrustToken partner that allows you to earn interest on your TrueUSD as well as instantly borrow against it. 
In addition to providing industry-leading interest rates for TrueUSD and a handful of other cryptocurrencies, Celsius Network stands by their commitment to having no fees, ever. 
How does Celsius Network make money? 
Celsius Network is able to provide its users a no fee experience by lending their digital assets to other institutional investors and retail borrowers. According to their website, they aim to return 80% of the revenues made through lending back into the community and their users.
How much is Celsius Network minimum investment? 
In addition to providing an incredible onboarding experience for both individual investors and corporate entities, one of the best things about the Celsius Network is there is virtually no minimum investment needed; you can get started with as little as $1. 
Any earnings you make through the Celsius Network app with TrueUSD are received weekly on Mondays, and the interest rate payout is updated weekly as well. 
Is Celsius Network Safe?
Celsius is an industry-leading crypto lending leader and is built with best-in-class security practices to reduce the likelihood of cyber attacks and threats. 
Celsius promotes a variety of security suggestions to ensure your account is safe, such as 2FA and using a strict password requirements. 
Furthermore, the app itself is just an interface and does not actually hold any of your assets locally. 
How to earn with Celsius Network 
To get started earning with TrueUSD purchase TrueUSD at TrustToken directly, or any of the other dozens of exchanges that list TrueUSD. You can even purchase TrueUSD within the Celsius Network app as well.
As soon as you deposit  TrueUSD within the app, you will begin earning interest immediately, with no additional action needed on your part. 
You can get started with Celsius Network within minutes. 
Click "Get The App" from the Celsius Network website.
Download the Celsius Network app on your phone.
Fill out the required information during the signup process.
Confirm your email address and pin code.
Once in the app, verify your profile by clicking the "verify profile" button.
Purchase or deposit your TrueUSD, and you're well on your way to earning interest!  
You can receive discounts on cryptocurrency purchases within Celsius Network when you stake their CEL token. 
Decentralized Finance (AKA DeFi) Lending Platforms
Now that we have covered the highest- yielding  CeFi companies where you can earn an return on your TrueUSD, let's take a look at the leading DeFi lending platforms that are integrated with TrueUSD. 
Remember, with DeFi, you're deciding to trust the underlying technology as opposed to putting your trust in one specific company or entity.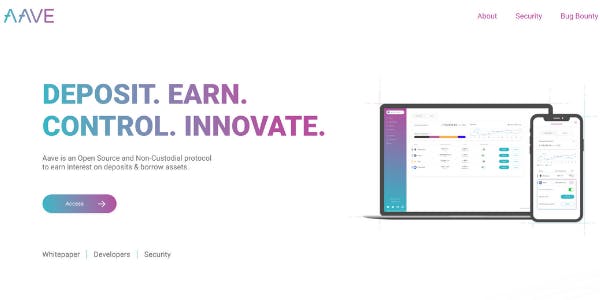 What is AAVE? 
Aava is an open-sourced DeFi protocol that allows you to earn with your TrueUSD. Like other DeFi protocols, the entire source code and whitepaper can be found via GitHub. 
As their whitepaper notes, "The birth of the Aave Protocol marks Aave's shift from a decentralization Peer to Peer (P2P) lending strategy - direct loan relationship leaders and borrowers, like in ETHLEND, to a pool-based strategy. Lenders provide liquidity by depositing cryptocurrency in a pool contract."
How much interest do you earn with AAVE?
Aave's interest rates are determined as follows:
"For borrowers, it depends on the cost of the money - the amount of funds available in the pool at a specific time. As funds are borrowed from the pool, the amount of funds available decreases, which raises the interest rate.
For lenders, this interest rate corresponds to the earn rate, with the protocol algorithm safeguarding a liquidity reserve to guarantee withdrawal at any time."
How does AAVE work and the team behind it
When you deposit your cryptocurrency, you receive a corresponding amount of derivative tokens, called Aava Tokens, that are mapped 1-1 to the underlying cryptocurrency assets. 
One of the innovative features of Aave tokens is that they track real time block-block earnings so you can see exactly how much you're making.  
According to their whitepaper, Aave aims to improve the current offerings of decentralization finance by focusing on:
Stable Rates to help borrowers' financial planning
Flash Loans that enable borrowing & repayment in a single transaction. 
Aave is headquartered in London, but the team currently consists of over a dozen members from around the world.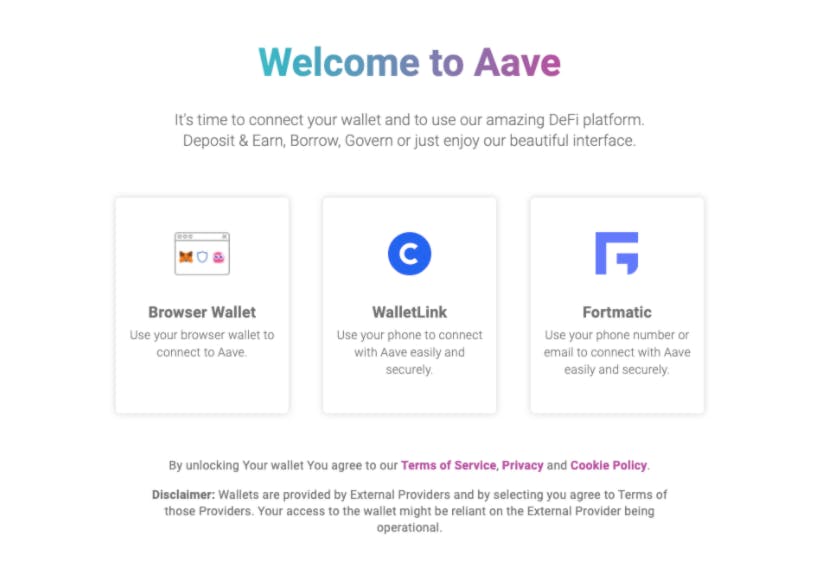 How to earn crypto with AAVE
To get started, head on over to aave.com.
Click "access."
Then connect your browser wallet, wallet link, or Fortmatic.
Deposit the desired amount of TrueUSD or cryptocurrency you want to lend and follow the onboarding process to start earning on your investments!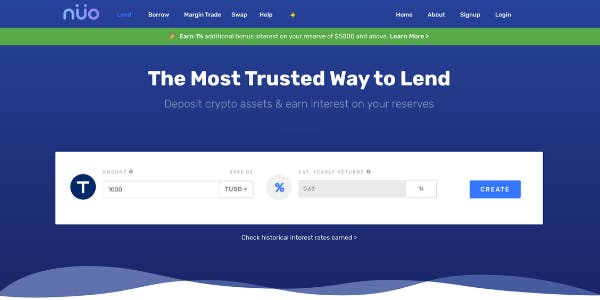 What is Nuo?
Nuo is another leading DeFi platform that allows you to lend and borrow cryptocurrency and earn with your TrueUSD.
With Nuo you can borrow with leverage and instantly borrow ETH or other ERC20 tokens based on the amount of collateral you deposit. Nuo currently does not charge any fees for their service.
Why choose Nuo Exchange and how does it work? 
In addition to the ability to borrow, you can also lend your cryptocurrency and earn interest on your TrueUSD assets. At the time of this writing, Nuo has been responsible for over 28 million in loans and this number continues to grow rapidly. 
Here are some of the features Nuo offers its users: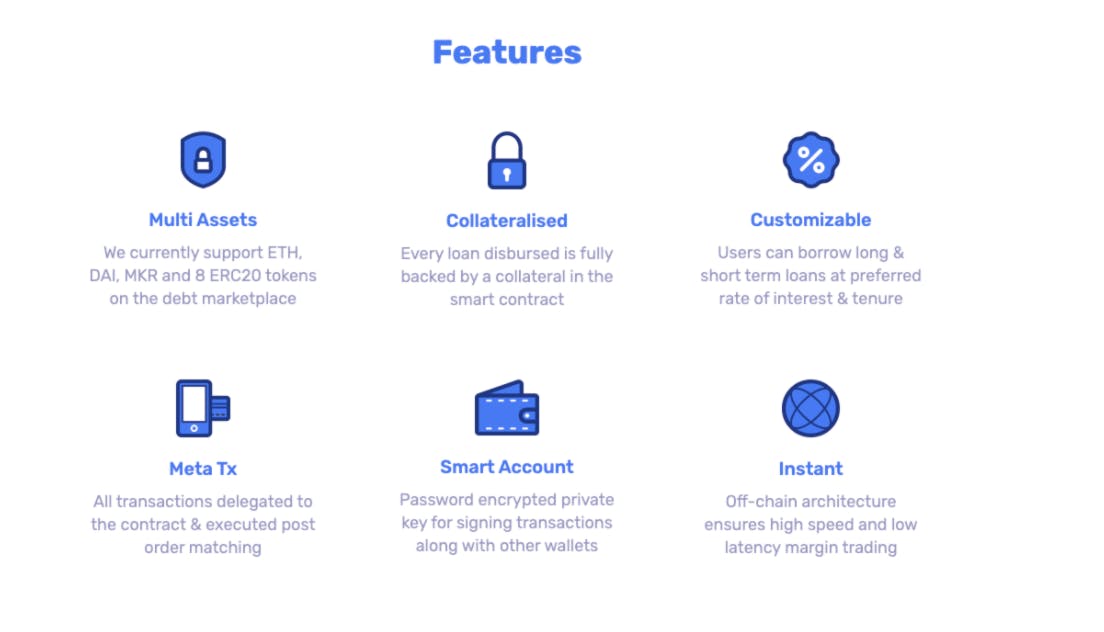 Is Nuo safe?
According to their website, Nuo Network enables lending and borrowing using smart contracts which are open source. Nuo Network does not take custody of tokens and is only a peer to peer marketplace for lenders and borrowers. 
Because the Nuo Network is non-custodial and decentralized, all user funds are locked in smart contracts, of which Nuo never has access to your funds. 
The Nuo platform also uses industry-leading security best practices to ensure your funds are safe, including 256-bit SSL and fully tested smart contracts. 
Additionally, Nuo offers 24/7 support in case you need assistance. 

How to earn TrueUSD with Nuo
Head on over to Nuo.network.
Decide whether you would like to lend, borrow, or trade.
If you would like to lend, determine the amount of ETH you would like to deposit. 
Using their interest rate calculator, you can see how much expected interest you will earn.
Deposit the amount into the account, and start earning interest.
Earn Crypto as a Defi Liquidity Provider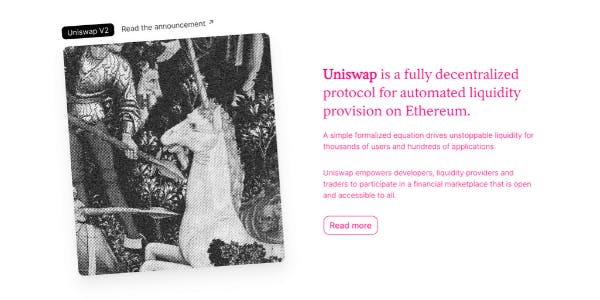 What is Uniswap?
Uniswap is one of the most used decentralized exchanges (DEX) in the cryptocurrency space today. 
While decentralized exchanges generally have lower liquidity than centralized  exchanges such as Binance or Coinbase, decentralized exchanges continue to grow in popularity as they do not rely on any single entity and there are no intermediaries holding funds on behalf of users like yourself. 
The recurring theme here is that, DeFi puts you in full control, which can be a great benefit to those who distrust centralized entities with too much power over their users. 
How does Uniswap work?
The Uniswap protocol for automated liquidity was built using Ethereum. Uniswap has worked hard to make it easy for developers to build on top of  their platform and increase adoption within the crypto space.
One of the biggest advantages of using a DEX such as Uniswap.info is that it allows you to trade tokens without giving up access to your private keys. 
If you hold your cryptocurrency on a CeFi platform like Coinbase for example, you're trusting them with your private keys. While Coinbase is a leading exchange in the US and has built a reputation based on trust, technically, they hold your cryptocurrency completely.  
Using a DeFi exchange such as Uniswap gives you full control of your assets even while trading on an exchange. 
Is Uniswap safe?
Like other decentralized exchanges, having transparent and open source protocols are essential in maintaining trust. 
Uniswap's code and smart contraction implementations are publically available on Github for review. On their website they provide information and resources for both developers and investors alike. 
How to earn with Uniswap 
Head on over to Uniswap.org.
"Click launch app."
Connect your wallet of choice to the service.
Depositing your funds into the decentralized exchange.
Choose whether you would like to swap, send, or pool.
If you would like to pool to earn from your funds, you can see how much you are expected to earn based on your deposit.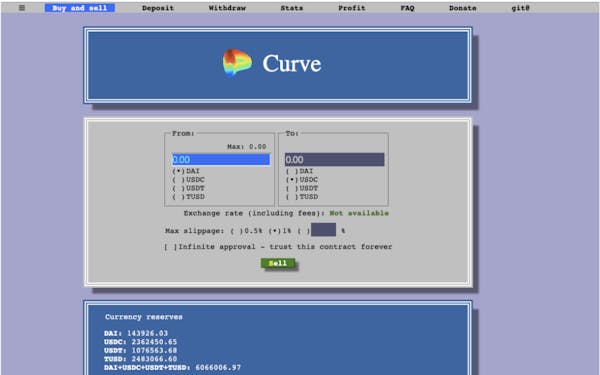 What is Curve?
A decentralized exchange similar to Uniswap, Curve is an exchange built with stablecoin trading, such as TrueUSD in mind. 
As their FAQ page states, "Curve is an exchange liquidity pool on Ethereum (like Uniswap) designed for (1) extremely efficient stablecoin trading (2) low risk, supplemental fee income for liquidity providers, without an opportunity cost."
Is Curve safe? 
If you intend on trading primarily with stablecoins, Curve is a platform you should definitely look at. Like many DeFi exchanges, security is incredibly important. Curve smart contracts have been audited by Trail of Bits, one of the leading auditors in crypto trading today.  
Curve uses yTokens to help ensure the liquidity of the exchange, and by depositing TrueUSD, you will receive a set amount of yTokens in exchange, which can then be traded.
Recommended for more advanced investors and traders, Curve is yet another way to earn with TrueUSD. 
How to earn with Curve
To get started, head on over to y.curve.fi
Connect your desired wallet to the exchange. 
Deposit your chosen amount of cryptocurrency and begin trading. 
Protip: You can use Deifiscore.io to get an update to look at the best DeFi protocols to earn with your TrueUSD. 
Growing TUSD 101: Things to Keep In Mind 
Now that we've covered the many ways you can earn with your TrueUSD, there are a few important things to keep in mind when putting your TUSD to work for you
Timeline
How long are you able to have your assets locked up? Some platforms and exchanges have a lockup period before you can touch your assets.
Be sure to choose the appropriate platform based on your current needs. Make sure you fully understand the timeline you're committing to, in terms of locking up your TUSD.
Exchange or Wallet
When you deposit your funds to earn with TrueUSD, where are they being held? And by who? Some platforms mentioned previously in the article are decentralized and non-custodial, while others are centralized and have full custody of your funds. 
Be sure you know precisely how each platform works, so you can feel comfortable using each accordingly.
TUSD interest rates
Like different banks, different platforms can offer varying amounts of interest depending on a wide variety of factors. Do your due-diligence and choose the platform that best suits your needs, based on ease of use, risk exposure, and returns. Whether you choose to use CeFi or DeFi lending platforms to earn with your TUSD, be aware that interest rates are subject to change based on market conditions.
You've made it! 
We hope you enjoyed our ultimate guide on how to earn with TrueUSD. You now know exactly how to start making your TrueUSD work for you. Whether you're new to cryptocurrency or a seasoned investor, we hope you found this valuable.
If you have any questions or comments, leave them in the comments below! 
Learn to put your money to work.
Save more and earn more with tips from the front lines of fintech.